STONEBANK Perspective: Are there significant interest rate implications for MedTech?
Author: Tim Durst, CEO and Managing Partner of STONEBANK Partners LLC
Yes, significantly higher interest rates due to Federal Reserve monetary policy will affect MedTech companies. The traditional view is that companies that rely less on capital expenditures carry less debt to fund its operations and are therefore more immune to interest rate changes. It is the case that many MedTech companies carry less than .2% debt to equity compared to the S&P 500 of 2.2%. But the fact is that that debt costs more today than it did 2 years ago and takes from company profits.  But the impact is much larger than this: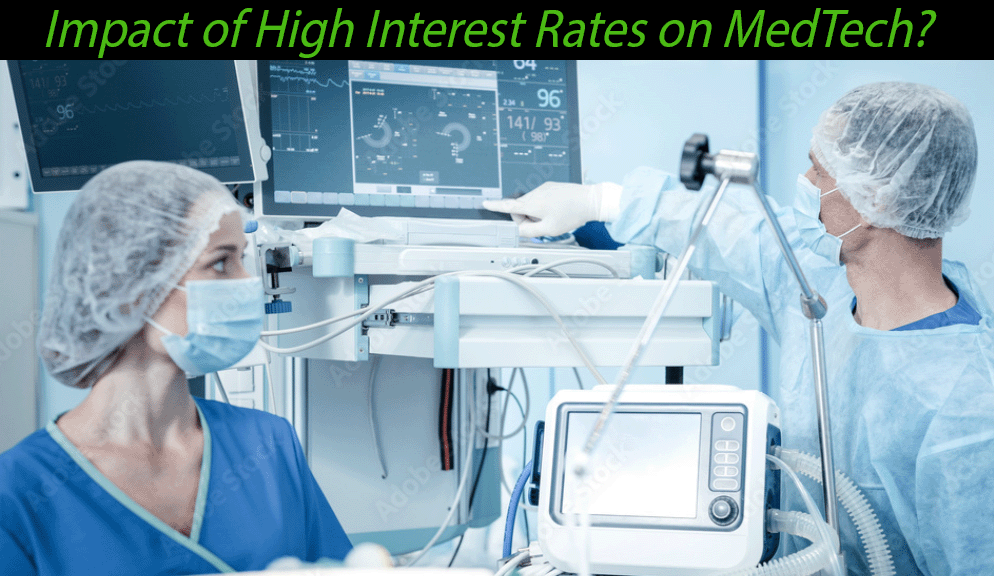 Impact on Hospital buying decisions, where most Medical Technology is bought and used. Hospital networks hold debt/total capital ratios that are 40-100%. This debt funds the large capital expenditure requirements of facilities, information technology, and medical equipment. Hospitals were already hurting from Covid and the Covid hangover, and now need to deal with the added interest costs of current debt. This affects their buying decisions from MedTech companies. Hospital discretionary capital expenditures will be delayed and will work to negotiate for lower prices and more favorable terms. The pent-up demand from Covid delayed demand and purchases is at its end and the result will impact sales and pricing in MedTech.
Impact on Consumer healthcare decisions, where they are feeling the effects of increased interest rates in credit card debt, variable rate mortgages, and car financing costs. Total US household debt increased to over $17T. And total credit card debt has increased from $800B to over $1T in the last year. While consumer credit APR is now at an average of 22% and was 16% two years ago. Not to mention Inflation is increasing the consumer cost of living and has slowed in rate but not in absolute terms. Consumer healthcare decisions are not immune to this personal budget pressure. Discretionary procedures may be put off, such as a knee implant or even worse people decide not to take and refill their medications. Consumers have come back in 2022 and 2023 for discretionary procedures that they delayed during Covid pandemic but that is working through the system and new patients are now deciding based on today's economic environment. The result is dampened demand from hospitals and clinics for some types of MedTech products and services.
Impact on MedTech startups and new ventures, that have been a key source of innovation for MedTech, complementing internal R&D efforts, are struggling to raise capital and keep the pace of execution. Venture capital, Angel, and Private Equity investment has tightened significantly due to interest rates, the economy, the flat stock market, and less exit opportunities. The larger MedTech, that is often the buyer of these startups, is expecting proven sales and given their core business pressures are not executing the same volume of transactions. The MedTech Industry has executed 43 deals in first half of 2023, which is similar to 2022 but 50% less than 2021.
Impact on future MedTech Innovation, where the Startup innovation pipeline will be delayed by an estimated 2-3 years to market and ultimately to full-scale through a large MedTech player. Internal R&D spending for MedTech has rebounded in 2023 but that is also being carefully reviewed due to the economy. The opportunity cost to global healthcare could be significant.
So yes the industry has seen some impact but there is more to come and it is important for MedTech companies to define strategies and plans to manage the likely implications and prioritize its investments while improving productivity and execution speed. The headwinds could turn into competitive advantage for those that manage the best. STONEBANK Partners is working with multiple companies to navigate today's environment while positioning for the future. www.stonebankllc.com.
About STONEBANK Partners and Tim Durst:
Stonebank Partners LLC is a management consulting firm focused on the Life Sciences and MedTech Industry. We are senior advisors focused on helping clients drive breakout growth and value creation, through new ventures, new business models, new products, M&A, and operational effectiveness and execution.
Tim Durst, CEO of STONEBANK Partners, is a thought-leader in the MedTech Industry. Tim has worked with all of the Top 30 global MedTech companies along with many startups and mid-size firms. Prior to STONEBANK Partners, Tim led Accenture's global MedTech sector and was a Lead Life Sciences Partner at PwC, EY, Kearney, and PRTM.